Home Care and Support for Spinal Cord Injury Victims
Paraplegia and Quadriplegia – Specialty In-Home Care for Spinal Injuries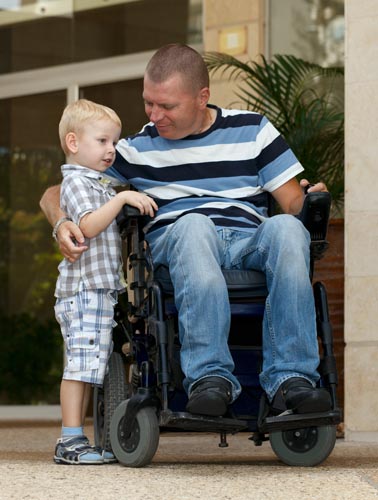 The National Spinal Cord Injury Statistical Center in Birmingham, Alabama estimates that there are over 400,000 people today, living with a spinal cord injury or spinal dysfunction. Most spinal cord injuries result in Paraplegia and Quadriplegia. This results in a loss of function, usually in mobility or feeling. Severe injuries that occur in the neck usually result in Quadriplegia, which is paralysis from the shoulders down. Typically, the higher the neck injury, the more disability there is. Quadriplegics lack the ability to move their arms and legs, and some may require a Ventilator to breathe. Paraplegics have an injury further down the spinal cord and experience a loss of sensation and movement in their legs and in part or all of their trunk. In many cases, there is some use of their hands or arms. Depending on the extent of the injury and whether the damage is permanent, there may be a loss of bladder and bowel control. More than 54 percent of spinal cord injuries are the result of vehicular collisions. More than a quarter result from other medical conditions and sports injuries, and falls make up about 18 percent. In addition to quadriplegic and paraplegic, the terms "complete" and "incomplete" are used to describe the type of spinal cord injury. Complete injuries result in total loss of sensation and movement below the injury.
Acquiring or sustaining a spinal cord injury can be devastating to an individual, their family, and loved ones. When these types of injuries happen, it can change our world and the way we live our lives dramatically. These changes can be temporary or permanent, and may cause impairment or a complete inability to perform and function. To help individuals and families deal with a catastrophic spinal cord injury, Caregiving Experts has a trained team of caregivers for the support you will need. We offer a wide array of services to loved ones who have a spinal cord injury and/or need a wheelchair for daily living. Our care team and caregivers can help someone adjust to a new living situation directly after an injury and as their life progresses.
Spinal Cord Injury Resources
Here are some useful resources to assist you through your journey.
Caregiving Experts's professional and experienced team can provide individual attention, 24-hours a day, in such areas as:
A commitment to compassionate professional care and services.
Encouraging good health maintenance activities.
Morning wake-up personal care routine and assistance with evening rituals and tuck-in.
Supporting a proper diet and nutrition.
Supporting and encouraging exercise.
Adhering to a rigorous skin care program and protocol ranging from proper positioning and correct body alignment.
Establishing and following bowel and bladder programs, including catheter care.
Maintaining mobility and range of motion.
Assisting with respiratory programs as needed. This may include Trachea suctioning, CPAP ventilator and respirator support.
Medication assistance.
Keeping a clean safe environment. Household related task.
Transportation and running errands.
Companionship and support.
Encouraging clients to be independent
Our Care Team
Our Spinal Cord Program functions with an interdisciplinary approach bringing a singular focus of care and service to the individual and family 24/7.
Your Trusted Source for Spinal Cord Injury Caregivers and Home Care Services
Caregiving Experts offers In-Home Care for Spinal Cord Injury patients and families throughout The Greater Detroit Metro area suburbs including Wayne County, Oakland County and Macomb County. We provide our home care, senior care and dementia care services to residents of Plymouth, Livonia, Canton, Novi, Farmington, Commerce Twp., Bloomfield, Southfield, Royal Oak, Troy, Rochester Hills, Clinton Twp., Warren, Grosse Pointe, Dearborn, Allen Park, and White Lake to name a few.