Elder Care Services – Home Care and Support for Elderly Adults
In Home Care for Elderly Adults in Metro Detroit Including Oakland, Macomb and Wayne Counties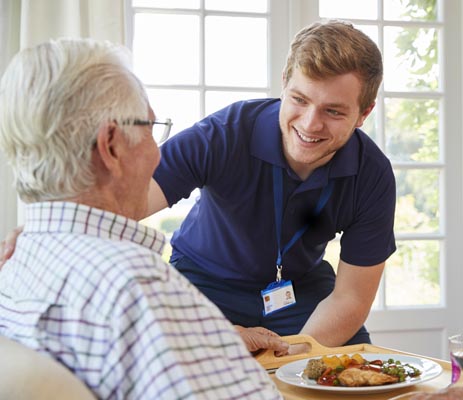 As years pass the natural process of aging settles in. Physical ailments, chronic health conditions and subtle changes in cognitive ability can make it difficult for elderly loved ones to maintain their safety and independence at home. These changes can force many seniors to give up their homes and their independence, moving into assisted living and nursing home facilities.
But at Caregiving Experts, we're here to help seniors as they strive to maintain their independence and dignity, while remaining in a comfortable and safe home environment. If you or a loved one are in need of assistance, Caregiving Experts is here to provide quality in home care for your loved one, whether it be once a week, all day long or around-the-clock care.
At Caregiving Experts, we understand and are sensitive to each senior having unique needs, specifications and requirements. So we work one-on-one with each client and their families to develop a personalized care plan that will support the individual's independence, safety, health and happiness.
We serve clients throughout the Detroit Metro area including Wayne, Oakland and Macomb counties.
Caregiving Experts provides a vast array of elder care services, including:
Daily help on a short-term basis (perfect during a recovery from illness, injury or surgery);
Daily assistance on a long-term basis;
Part-Time help for a few hours per week on a short-term or long-term basis;
Occasional or regularly scheduled respite services for primary caregivers;
Live-in assistance for those who require 24-7 care for an elderly loved one; and
A nice simple shower-bath.
Caregiving Experts performs extensive screening of our caregivers and completes a criminal background check every 6 months.
Our caregivers have ongoing training opportunities and are required to undergo continuing education and training in order to ensure that our senior and elderly adult clients receive the best and most appropriate senior care and assistance.
Whether you or an aging family member needs help around the house or are simply looking for a companion to ward off feelings of loneliness, we're available to help. Our elder care services take many forms, including:
Help with incontinence and toileting;
Assistance with bathing, personal grooming and more;
Help with mobility and transportation;
Assistance preparing meals and eating;
Medication reminders;
Help with light housekeeping and household chores;
Assistance with errands and appointments;
Companionship services; and
Going on family outings.
Our elder care services deliver many distinct benefits, from providing family and friends with peace of mind, to improving a senior with a sense of wellness-being and happiness, enhancing independence and monitoring the senior while helping to prevent falls and accidents. We're here to help seniors who would have otherwise been forced to consider alternative living arrangements such as an assisted living facility or nursing home.
Our elder care services make it possible for seniors to remain at home and in a safe, secure and healthy environment while maintaining their dignity and independence.
Caregiving Experts offers elder care services to meet nearly every need and budget.
Contact the friendly team at Caregiving Experts today to discuss care for you, a friend or family member living in our service area, which includes Macomb, Oakland, Wayne and parts of Monroe Counties and the great city of Detroit.