Dementia and Alzheimer's Disease Home Care Resources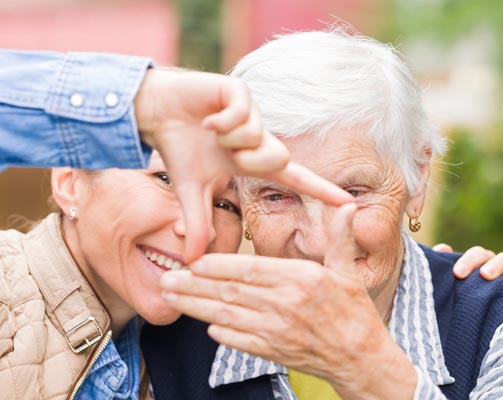 Dementia can turn a family and close friend's world up-side down. The challenges can seem insurmountable and create so much stress in the family. While all this can create a sense of isolation and helplessness, in truth, the diagnosed and their loved ones do have access to number of excellent tools to help them build and adapt to their "new normal." Caregiving Experts can be one of those tools to help you learn more and aid in bring your household back to normal.
Rather than provide you with medical information, this guide offers practical, realistic, no-nonsense help. Here you will find hands-on tips that can be put into everyday action. You'll find handy resources for real-life dilemmas and information you can depend on and make the most of-for your particular family and your particular situation.
First, let's be clear on these 4 points:
As with most chronic conditions, the development of dementia can't be neatly broken down into categories and discrete points. This means one may not personally experience some of the sign and symptoms.
Dementia is a very unique disorder and affects everyone differently. There is no set pattern to anticipate.
The signs and symptoms outlined within this guide as early (mild), middle (moderate), and late (severe) stage dementia are not absolute indicators of that particular stage. Here is an illustration, if a diagnosis is early dementia but symptoms relate to those listed as middle stage, this does not mean the condition has progressed.
Be sure to discuss with your health care provider if you have questions or concerns about a diagnosis. Let your physician know about any changes; simple medication or lifestyle adjustments can make a big difference.
Alzheimer's Facts and Figures
A recent report from the Alzheimer's Association provides statistics about Alzheimer's and dementia in the United States.
Now What? A Diagnosis of Alzheimer's Disease and the Legal Issues that Require Prompt Attention
The Greater Detroit Chapter of the Alzheimer's Association wrote a guide that address legal issues families should address when a loved one is diagnosed with dementia or Alzheimer's disease. View the free resource (PDF) here.
Understanding Dementia and Driving
This excellent handbook; At the Crossroads: Family Conversation about Alzheimer's Disease, Dementia & Driving helps families determine when it's time for loved ones with dementia to transition from driver to passenger. This webpage will provide further information and at the bottom of the page download or order the booklet. 
Your Trusted Source for Dementia Home Care and Specialized Memory Care Programs to Assist Patients with Cognitive Impairment
Caregiving Experts offers Specialized In-Home Care Programs for patients with Alzheimer's and Dementia throughout The Greater Detroit Metro area suburbs including Wayne County, Oakland County and Macomb County. We provide our home care, senior care and dementia care services to residents of Plymouth, Livonia, Canton, Novi, Farmington, Commerce Twp., Bloomfield, Southfield, Royal Oak, Troy, Rochester Hills, Clinton Twp., Warren, Grosse Pointe, Dearborn, Allen Park, and White Lake to name a few.