Home Care and Support for Motor Vehicle Injuries
Specialized In-Home Care for Injury Victims of Car, Truck and Motorcycle Accidents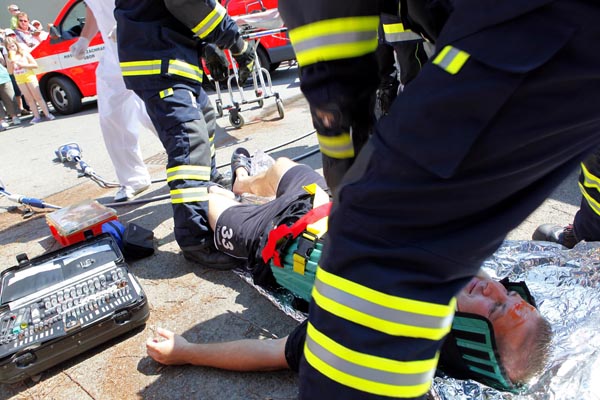 When you are involved in an automobile, truck or motorcycle accident, there is always a chance that you may fall victim to a serious injury. The types of injuries that you sustain could range anywhere from minor sprains and fractures, back problems to severe head and/or spine trauma.
Today, there are 5.3 Million people living with Traumatic Brain Injury caused by Auto and Motorcycle accidents. In addition to these families dealing with the effects of this injury, there are thousands of people each day in auto and motorcycle accidents that sustain non-fatal catastrophic injuries requiring months of hospitalization and rehabilitation before they come home. When they do return home, there usually is a need for In-Home personal care services to assist the client and family with activities of daily living till the clients recovers to the best of their ability.
When an auto accident victim is injured to the point they need assistance with such basic needs as eating, using the bathroom, bathing and getting dressed, the Michigan No-Fault insurance company will pay care giver to come into your home and help. This service is called "attendant care." Over the past decade we have helped 1,000s of individual and families with this type of care.
Specialty Home Care and Support for Victims of Serious Motor Vehicle Injuries
Whether your Motor Vehicle accident requires short-term assistance or your injury is more severe, requiring complicated 24-hour live-in home care, Caregiving Experts has the experience and professional caregivers to assist you.
Caregiving Experts's professional and experienced team can provide individual attention, 24-hours a day, in such areas as:
Support with eating
Support with using the toilet
Support with morning and evening routines
Support with bathing and grooming
Support with dressing and undressing
Support with transferring from bed to chair or repositioning in bed
Support with walking or using a wheelchair
Support with grocery shopping and meal preparation
Support with transportation
Support with administering medication
Support with changing bandages and dressing wounds
Support with use of medical equipment
Support with supervision and monitoring of a seriously injured accident victim
Support with supervision and management of care providers
Being "on-call" or "on stand-by" to help a seriously injured accident victim
A concierge approach to your care and service to assure that all your request and needs are managed in a superior fashion
Our Care Team
Caregiving Experts functions in an interdisciplinary manner. This approach brings a singular focus of care and service to the individual and family 24/7.
Your Trusted Source for Motor Vehicle Injury Caregivers and Home Care Services
Caregiving Experts offers In-Home care for Motor Vehicle injury cases throughout The Greater Detroit Metro area suburbs including Wayne County, Oakland County and Macomb County. We provide our home care, senior care and dementia care services to residents of Plymouth, Livonia, Canton, Novi, Farmington, Commerce Twp., Bloomfield, Southfield, Royal Oak, Troy, Rochester Hills, Clinton Twp., Warren, Grosse Pointe, Dearborn, Allen Park, and White Lake to name a few.