Senior Transportation and Support Services
Transportation Assistance – Helping Our Maintain Their Independence
Caregiving Experts supports our clients stay mobile by providing senior transportation services in the Greater Detroit metro area as well as the counties of Oakland, Macomb and Wayne.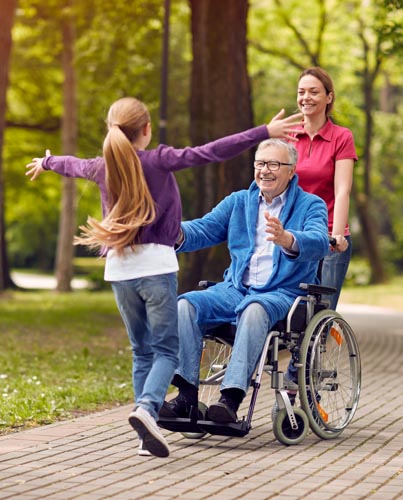 We provide a comprehensive range of transportation and travel support services to seniors including transportation to and from doctor's appointments, attending social events, visiting friends and family, trips to the salon, domestic and international vacation travel, attending special events and helping with errands such as grocery shopping and much more.
As we age, our independence can be threatened and many seniors are forced to give up driving or taking public transportation  which makes it very difficult to maintain an independent lifestyle. Running errands, shopping, attending family functions and even getting to and from doctor's appointments can become very difficult for seniors. This can also lead to feelings of loneliness and isolation, which may lead to depression and a poor quality of life.
At Caregiving Experts, we are committed to providing transportation assistance to elderly adults as well as companionship and in-home senior care services, which will help you or a loved one to maintain independence, dignity and a better quality of life.
With our senior transportation services, elderly clients and their families will have peace of mind knowing that we will get them where they are going and back home, safely and securely. Seniors no longer need to endanger themselves by attempting to drive, finding their way to a bus stop or dealing with unreliable taxi services. Our senior caregivers can assist with a variety of transportation support services, including:
Transportation to appointments;
Running errands;
General shopping trips;
Visits with family and friends;
Social events;
Salon or Spa;
Travel and Events
In addition to transportation and travel services for our clients, Caregiving Experts can also provide help with personal care tasks, assistance around the house, monitoring for clients with dementia, help for disabled individuals and companionship for seniors.
Our transportation support services are available for our clients as we provide them support and assistance where they live. We can also lend a helping hand to primary caregivers who require a bit of respite or relief from their caregiver duties. We're available to assist those who require help for a period of time following an injury or illness and we even offer 24 hour, live-in help to those who need more continuous care and support.
Some of the many benefits of our senior transportation services include:
A greater sense of independence
A better quality of life
Reduced feelings of isolation and loneliness
Better health and medication compliance since clients can attend their medical appointments more regularly
A feeling of freedom
Taking care of needed busines
Relief and respite for primary caretakers
We offer our travel and transportation services to seniors throughout The Greater Detroit Metro area suburbs including Wayne County, Oakland County and Macomb County. We provide our home care, senior care and dementia care services to residents of Plymouth, Livonia, Canton, Novi, Farmington, Commerce Twp., Bloomfield, Southfield, Royal Oak, Troy, Rochester Hills, Clinton Twp., Warren, Grosse Pointe, Dearborn, Allen Park, and White Lake to name a few.