Senior Helpers – In Home Assistance for Elderly Adults
Home Helper Services for Seniors in Oakland, Macomb and Wayne Counties and Greater Detroit Metro Area
As we age, having a little extra help can make a world of difference.
Do you or an elderly loved one need a helping hand around the house?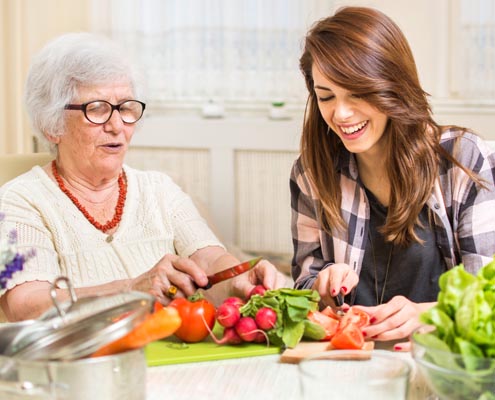 For seniors, everyday household chores and personal care activities become increasingly more difficult over time, forcing many seniors to surrender their independence and sometimes, their dignity. Fortunately, for residents of the Greater Detroit Metro area, including the communities of Plymouth, Livonia, Canton, Novi, Milford, Farmington, Commerce Twp., Bloomfield, Southfield, Royal Oak, Troy, Rochester Hills, Clinton Twp. Shelby, Warren, the Grosse Points, Dearborn, Allan Park and Trenton, in-home help and assistance is just a phone call away. Caregiving Experts has senior helpers available to provide your elderly loved one with that little bit of extra help they may need around the house.
Caregiving Experts is committed to providing comprehensive senior helper services, home care aids and senior companions, who can assist you or a loved one in maintaining their personal safety, cognitive well-being, social independence and sense of dignity.
Our senior helper services take many different forms. This includes senior companions who can chat and spend quality time with elderly clients who suffer from isolation and loneliness to senior caregivers that can help with a range of personal care activities and assist with different tasks around the house.
We understand that each client has a unique set of needs, so at Caregiving Experts, we're available to work one-on-one with each individual and their families to provide the senior care services that you need to enjoy a happy, healthy and fulfilling life!
Caregiving Experts offers long-term or short-term senior helper services, including:
Help for a few hours or days per week;
Regularly scheduled daily assistance;
Transportation to social events or medical appointment;
Live-in caregivers providing 24 hour senior helper services; and
Respite care to relieve a primary caregiver.
Our experienced and compassionate senior helpers and in-home caregivers are ideal for anyone who needs a helping hand due to limited mobility, cognitive impairment, chronic disease or other medical condition or disabilitiy. We can also assist those who need a bit of help following a surgery, injury or illness.
Our highly trained senior helpers can provide assistance with many day-to-day tasks, including:
Help with bathing, grooming and personal care
Assistance with toileting, incontinence care and personal hygiene
Meal preparation and feeding assistance
Help with household chores and light housekeeping tasks
Help running errands and transportation to appointments
Traveling with the family to provide support while on a trip or vacation
Medication reminder
Companionship services to ward off feelings of loneliness and isolation
At Caregiving Experts, our senior helpers receive extensive training and continuing education which ensures quality care and enables us to provide our elderly clients with a greater sense of independence and dignity. Our caregiver training program offers comprehensive education and training modules. Seniors will also enjoy greater sense of safety, since there will be someone on-hand to help with tasks that are difficult for seniors and that can often lead to injury. Friends and family members will also enjoy peace of mind knowing there's someone to help monitor their loved one and provide much needed companionship.
Our senior helpers undergo specialized training, criminal background checks and extensive screening to ensure you or your loved one will receive the best care available; care that exceeds your expectations of excellence! There is a vast array of senior care services available so you can feel confident that we have a care plan to accommodate virtually every client's needs and budget.
We invite you to contact Caregiving Experts to schedule a free; no obligation home care needs assessment so we can develop a personalized care plan for your senior loved one.
Caregiving Experts offers in-home senior helper services throughout The Greater Detroit Metro area suburbs including Wayne County, Oakland County and Macomb County. We provide our home care, senior care and dementia care services to residents of Plymouth, Livonia, Canton, Novi, Farmington, Commerce Twp., Bloomfield, Southfield, Royal Oak, Troy, Rochester Hills, Clinton Twp., Warren, Grosse Pointe, Dearborn, Allen Park, and White Lake to name a few.