Senior Caregivers Provide Care and Companionship
In Home Caregivers for seniors and elderly adults in Wayne, Oakland and Macomb Counties and the Great City of Detroit.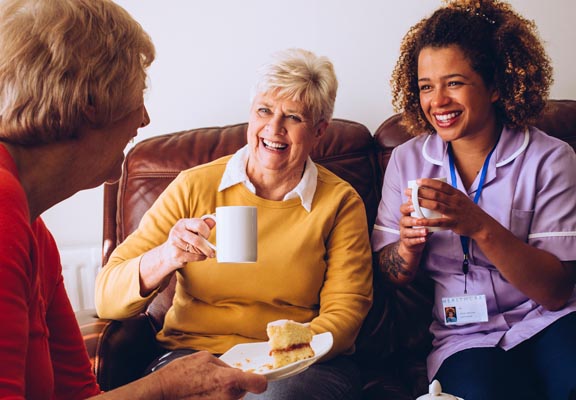 Caregiving Experts provides trained senior caregivers for elderly adults with health challenges, recovering from a hospital stay or chronic medical conditions throughout the Greater Detroit Metro area, including the communities of Plymouth, Livonia, Canton, Novi, Milford, Farmington, Commerce Twp., Bloomfield, Southfield, Royal Oak, Troy, Rochester Hills, Clinton Twp. Shelby, Warren, the Grosse Points, Dearborn, Allan Park, Trenton to name a few.
Our compassionate senior caregivers can help a few hours per week, on a daily basis or even 24 hour a day. We provide comprehensive in-home caregiver services that will improve quality of life, enhance independence and improve an individual's overall sense of well-being.
Our caregivers for the elderly can help with a wide array of tasks and activities, including:
Companionship services for seniors
Help with meal preparation and feeding
Personal care assistance
Assistance with mobility
Safety supervision and monitoring;
Transportation assistance for errands, shopping and appointments
Help for primary caretakers who require relief and respite
Conditions such as cognitive impairment, age-related mobility issues, chronic health conditions, illness and injuries can all leave a senior loved one in need of home care assistance in order to maintain their independence, dignity and quality of life. Our in-home senior caregivers can also provide peace of mind to out-of-town family members and friends, who may worry about an older individual's health, safety and well-being.
Our senior caregiver services are also ideal for those who are suffering from feelings of loneliness and isolation. We are naturally social creatures seeking interactions and an individual's quality of life can diminish quickly when they are alone for days, weeks or even months on end. Our trained caregivers can not only help with an individual's care and with chores around the house; they can also serve as a wonderful companion and friend for an elderly adult.
An in-home caregiver can supervise and assist seniors with cognitive impairment or dementia, helping to reduce confusion and ensuring that seniors stay happy and healthy in their own home. We achieve this by helping to ensure that the client is taking their medications, eating regularly and performing essential hygiene and personal care tasks.
Our senior caregivers receive extensive training and undergo thorough background checks, so you and your family members will have confidence knowing that our caregiver are providing top quality services to your senior loved ones.
Clients and family members that use our senior caregiver services report tremendous benefits. Seniors enjoy a better quality of life and they no longer need to struggle to complete everyday tasks; they can spend more time partaking in hobbies and enjoyable activities too. They also experience less loneliness and isolation, along with better overall health and wellness since there's someone available to help ensure they take their medications, eat regular meals and remain safe.
Caregiving Experts provides senior care services throughout The Greater Detroit Metro area suburbs including Wayne County, Oakland County and Macomb County. We provide our home care, senior care and dementia care services to residents of Plymouth, Livonia, Canton, Novi, Farmington, Commerce Twp., Bloomfield, Southfield, Royal Oak, Troy, Rochester Hills, Clinton Twp., Warren, Grosse Pointe, Dearborn, Allen Park, and White Lake to name a few.