Hospital Discharge & Post-Surgical Home Care
Planning and Managing the Transition from Hospital to Home Care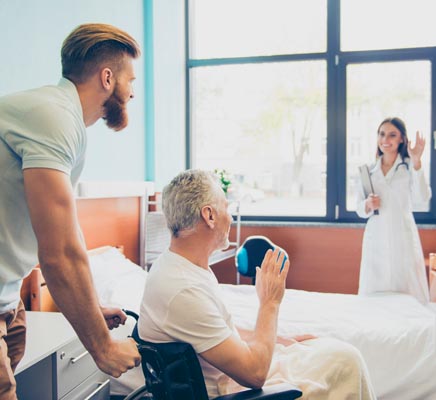 Navigating the health care system can be a difficult task and getting back home after a medical procedure, surgery or prolonged illness can be a challenging process. With mounds of paperwork, hospital discharge instructions, medication requirements and extensive list follow up instructions and appointments, getting back to normal often times requires some assistance.
At Caregiving Experts we work closely with clients and their families to develop a specially designed program to help with a safe discharge and help you manage the transition from hospital to home care.
Our hospital discharge services help to ensure that clients arrive safely at home after a hospital stay or rehabilitation program. We help clients slowly and confidently ease back into their daily routines as their health conditions improves and their physical ability allows.
Hospital discharge services can include securing and communicating discharge orders, transporting the client from the hospital and to follow up appointments, picking up any over the counter or prescription medications at the pharmacy, grocery shopping and errands, preparing and serving meals, genuine companionship and any level of personal care such as assistance with bathing, dressing, hygiene or mobility.
At times, more complex care is required for patients recovering from Traumatic Brain Injury, auto accidents or other unfortunate occurrences.
Our Post-Surgical & Hospital Discharge Services Include:
After Rehabilitation
Heart Surgery
Joint Replacement
Plastic Surgery
Eye Surgery
Cancer
Dental Surgery
Day Surgery
Outpatient Surgery
Our Comprehensive Approach to Home Care Services
Our complete approach in developing a customized care plan considers emotional, physical, and social needs of our clients as they are interrelated and critical to overall well-being.
In the Detroit Metro area, our caregivers are trained to encourage active recovery while promoting compliance with the prescribed hospital discharge plan. Family members are not always available for the hospital discharge meeting with nursing staff, physicians and case managers; we can be there as another set of eyes and ears to ensure nothing gets lost in translation.
We are the hospital discharge experts, providing post-surgical and post-rehabilitation home care to patients throughout The Greater Detroit Metro area suburbs including Wayne County, Oakland County and Macomb County. We provide our home care, senior care and dementia care services to residents of Plymouth, Livonia, Canton, Novi, Farmington, Commerce Twp., Bloomfield, Southfield, Royal Oak, Troy, Rochester Hills, Clinton Twp., Warren, Grosse Pointe, Dearborn, Allen Park, and White Lake to name a few.