Senior Companions and Elder Companionship
In Home Companionship Services for Seniors in Oakland, Macomb and Wayne Counties and the Greater Detroit Metro Area
By nature, human beings are social creatures and the inherent need for friendship and companionship along with social interaction is an important key to living a meaningful, happy and fulfilling life. Unfortunately, many seniors and elderly individuals can become home-bound and increasingly more isolated as their mobility and physical abilities decline. This can lead to intense feelings of loneliness and isolation which can have a dramatic impact on their quality of life. Additionally these feelings can even contribute to mental health problems such as depression.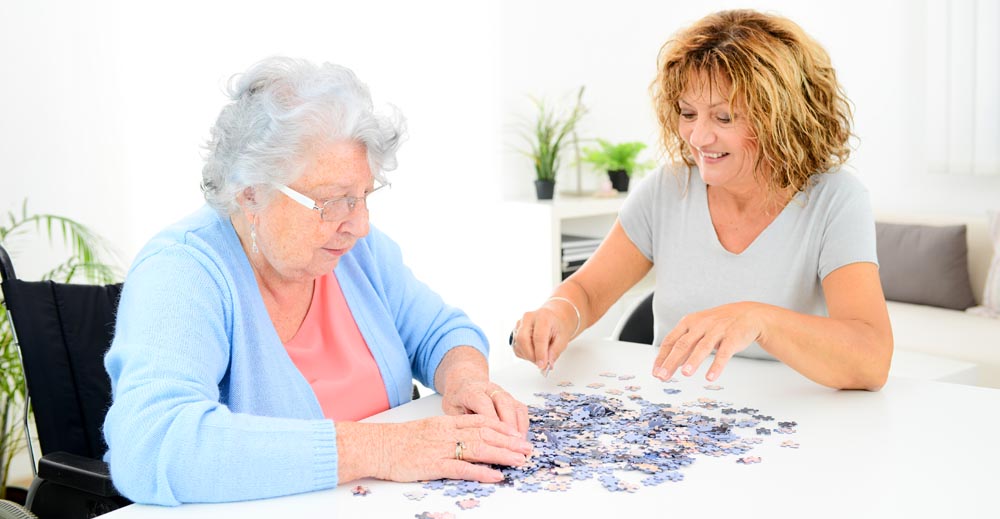 If you or an elderly family member is in need of conversation, social interaction or simple companionship, Caregiving Experts is available to help. We offer a complete range of senior care services to help your elderly loved ones in times of need, including senior companions and elder companionship services, which we provide to residents in the greater Detroit metro area, including the Michigan communities of Plymouth, Livonia, Canton, Novi, Milford, Farmington, Commerce Twp., Bloomfield, Southfield, Royal Oak, Troy, Rochester Hills, Clinton Twp. Shelby, Warren, the Grosse Points, Dearborn, Allan Park, Trenton to name a few.
Whether you or a loved one requires a little bit of extra help with personal care tasks or chores around the house, or simply suffer from isolation and loneliness and need someone to provide conversation, one of our senior companions might be the perfect solution.
Our senior companions can benefit elderly adults in a variety of different ways, including:
Providing company and conversation
Spending quiet time together, such as reading, knitting or watching television
Going for a walk or exercising together
Taking the senior client to an enjoyable location, like the park
Playing cards or board games together
Tending to light gardening or simply enjoying the outdoors together
Helping with household chores
Assisting with personal care tasks
Checking on seniors to ensure they're in good condition and good spirits
Providing peace of mind to the senior's family and friends
It these types of activities that can brighten a senior's day and ward off loneliness and depression, while assisting them with other daily tasks that can serve to improve their quality of life.
In fact, Caregiving Experts provides extensive training to our senior companions so they can provide more than just companionship. Creating opportunities for conversation, engaging dialogue and social interaction is vital to mental alertness. Our senior companions can also help with running errands, transportation and travel, cooking and meal prep, light housekeeping as well as personal care and more.
Caregiving Experts can provide as much or as little help as you or your loved one requires. From brief visits for a few hours per week to daily visits for several hours or even a live-in companion or caregiver, our staff can accommodate virtually every client's needs.
Our services are reasonably priced because we believe that it is very important that care and companionship services for seniors and elderly adults be readily available at a price you and your family can afford!
Our senior companions don't just provide elderly clients with much-needed interaction and companionship; they can also improve their quality of life and provide peace of mind to loved ones who may worry about their elderly family member's safety and physical well-being. We can help create peace of mind!
To learn more about our senior companionship services, pricing and availability, we encourage you to contact us today and schedule a free, no obligation home care needs assessment.
Caregiving Experts offers senior companionship services throughout The Greater Detroit Metro area suburbs including Wayne County, Oakland County and Macomb County. We provide our home care, senior care and dementia care services to residents of Plymouth, Livonia, Canton, Novi, Farmington, Commerce Twp., Bloomfield, Southfield, Royal Oak, Troy, Rochester Hills, Clinton Twp., Warren, Grosse Pointe, Dearborn, Allen Park, and White Lake to name a few.