Senior Care Services – Home Care for Elderly Adults
Are you in need of care for an elderly loved one?
As we age, physical limitations can hinder our mobility and make it difficult to complete everyday tasks that we used to take for granted. Dressing, bathing, meal preparation, housekeeping and general activities of daily living can become quite a chore. As a result, many elderly adults are forced to consider alternative living arrangements including assisted care facilities or nursing homes. For these individuals there is another viable option to consider; Senior Care Services.
These in-home care services for seniors are designed to assist elderly adults with everyday tasks and allow them to remain independent, safe and secure in their own homes. There truly is no place like home!
At Caregiving Experts, we understand that each senior has unique needs and requirements. Our staff works one-on-one with each client and their families to develop a custom-tailored plan of care that will support the individual's independence, safety, security, health and happiness.
Your Trusted Source for In-Home Care Services for Seniors.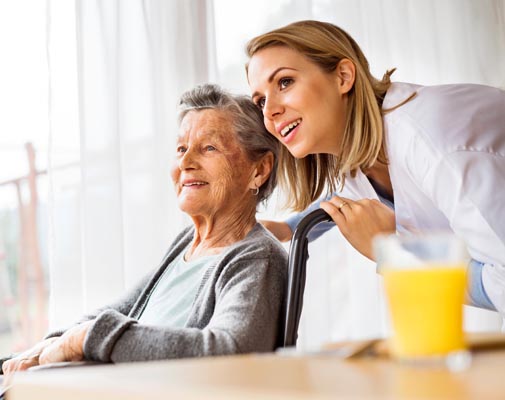 Caregiving Experts serves the Detroit Metro area including Macomb, Oakland, Wayne Counties and the nearby suburbs of Plymouth, Canton, Livonia, Novi, White Lake, Commerce Twp., Farmington, Southfield, Royal Oak, Troy, Birmingham, Bloomfield, Rochester, Clinton Twp., Warren, Mt. Clemens, Grosse Points, Dearborn Hts., Allen Park to name a few communities we serve.
Whether you or a family member requires help for a few hours per week, daily assistance or 24-7 live-in care, Caregiving Experts can provide home care services for your senior loved one that will meet your needs.
Our highly trained caregivers can provide our senior home care clients and their families with a wide range of comprehensive services, including help with personal care activities like bathing, dressing, transferring and using the restroom. We can also offer medication reminders and mobility help to ensure a senior stays safe while walking around or exercising.
Caregiving Experts can also provide help with tasks around the house, from light housekeeping and cleaning, to meal preparation, tending to pets, washing dishes, doing laundry and even running errands.
Maintaining your sense of well-being and cognitive acuity is important too, so our trained caregivers are available to offer companionship to you or a loved one. We all are social creatures and unfortunately, limited mobility and chronic health conditions can leave many seniors suffering from feeling of isolation and loneliness. Our caregivers are always happy to chat, play cards or board games, read or simply taking clients out on errands. This can go a long way toward making a senior's life happier, interactive and more fulfilling!
A simple shower-bath
In-Home Helpers for a few hours per week
Caregivers on a daily basis
Live-in caregivers providing 24-hour assistance
Occasional, as-needed help and respite care for primary caregivers
Companionship and/or personal care while on a vacation
Our senior care services will provide you or a loved one with many benefits, including:
Greater independence for seniors;
An ability to remain in the comfort of home;
Greater mobility and enhanced safety;
Companionship resulting in less loneliness and isolation;
An improved quality of life;
An ability to interact with family members; and
Peace of mind for family and friends.
Caregiving Experts is proud of our highly-trained, compassionate caregivers, who undergo extensive, ongoing training to ensure our clients receive the best senior care services possible. Excellence in care is a top priority and we work hard to exceed your expectations of excellence! What's more, we offer a host of senior care services so we are confident that there will be solution for virtually every client's budget.
If you require in-home senior care services in Wayne, Oakland, Macomb Counties or anywhere within the Detroit Metro area, contact the area's top-rated senior home care agency; Caregiving Experts. We will develop a comprehensive home care plan that will work for you or an elderly family member.
Caregiving Experts offers in-home health care services throughout The Greater Detroit Metro area suburbs including Wayne County, Oakland County and Macomb County. We provide our home care, senior care and dementia care services to residents of Plymouth, Livonia, Canton, Novi, Farmington, Commerce Twp., Bloomfield, Southfield, Royal Oak, Troy, Rochester Hills, Clinton Twp., Warren, Grosse Pointe, Dearborn, Allen Park, and White Lake to name a few.