Senior Home Care and Support Services
Providing home care services and support for seniors and elderly adults throughout the Detroit metro area, including Oakland, Macomb and Wayne Counties
Maintaining your independence throughout your golden years can be challenging and often times people will consider in-home senior care as a viable alternative to relocating to a senior living community.
At Caregiving Experts, we go the extra mile to provide affordable and reliable senior home care services, which can empower our clients to live a happy, healthy and independent lifestyle while remaining in the comfort of their own homes.
Comprehensive Senior Home Care Services for your elderly loved one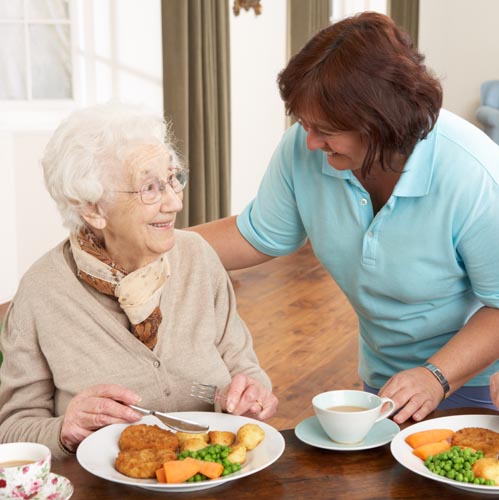 Our experienced in-home care caregivers are available to provide assistance with daily living activities, personal care tasks, transportation, companionship and more. These highly trained senior home care providers can help with everything from supervising a senior while they're showering or exercising, to helping with personal care tasks such as dressing or toileting, to assisting with household chores like meal preparation and light housekeeping –  tending to laundry, feeding a pet, washing the dishes, emptying the trash and more. We can also assist with grocery shopping, travel to and from doctor appointments and daily medication reminders.
At Caregiving Experts, our staff undergoes comprehensive training and extensive screening to ensure our clients receive the best care available. Our in-home senior care offerings can dramatically improve an elderly client's sense of fulfillment, happiness, safety and independence.
Some of the many benefits of our' in-home senior care services include:
A greater degree of independence for the elderly client
Improved safety for the senior since there's someone to help with tasks that could lead to injuries or falls
Improved mental health since they will be less lonely and receive simulation
Clients relish engaging in the activities they enjoy, so there's less boredom
Seniors enjoy greater mobility and safety since there's someone to help them get around
There's someone to summon help immediately if an injury occurs or if an illness arises
Family and friends can rest easy knowing their elderly loved one is safe, healthy and happy
Caregiving Experts can provide several different senior home care solutions for clients, including:
A simple shower-bath;
Occasional assistance, for a few hours on one or two days per week;
Daily caregiving for a few hours or the entire day;
Live-in, around-the-clock 24 hour care;
As-needed respite care to relieve or assist the senior's primary caregiver, or
Traveling with a client and family on a vacation
Caregiving Experts takes pride in the ability to offer compassionate, reputable and skillfully trained caregivers to provide senior home care to residents throughout The Greater Detroit Metro area suburbs including Wayne County, Oakland County and Macomb County. We provide our home care, senior care and dementia care services to residents of Plymouth, Livonia, Canton, Novi, Farmington, Commerce Twp., Bloomfield, Southfield, Royal Oak, Troy, Rochester Hills, Clinton Twp., Warren, Grosse Pointe, Dearborn, Allen Park, and White Lake to name a few.