In Home Care for Parkinson's Disease Patients
Expert In-Home Caregivers for Parkinson's Patients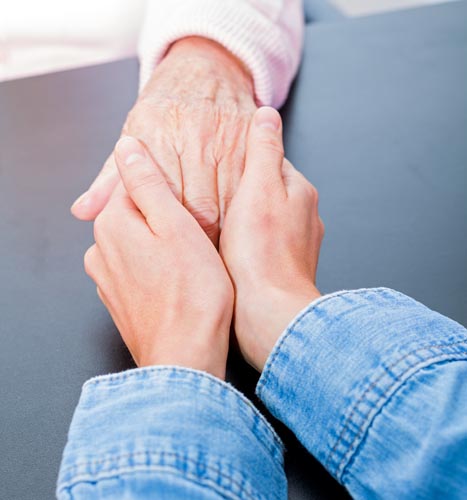 Parkinson's disease is a neurological disease that affects the nerve cells in the brain that produce dopamine. The cause is unknown at this time. Parkinson's disease symptoms include muscle rigidity, tremors and changes in speech and gait. About 50,000 Americans are diagnosed with Parkinson's disease. Parkinson's disease usually begins when a person is in his/her 60′s; although can strike in a person's 20s. The nervous system works like a communication center and helps us make sense of what is happening inside and outside the body. Parkinson's disease touches every area of the individual's life. Family and loved ones, especially spouses, are also affected. Knowledge of specific training and a comprehensive approach are key to providing the best services to persons affected by Parkinson's and their family members.
Signs & symptoms of Parkinson's Disease can include:
The symptoms of Parkinson's are caused by over-or-under-activity cholinergic or dopamine (chemical messengers in the brain)
Weakness and stiffness
Tremors
May have slumped, bent-over posture
Shuffling walk, poor balance
Mood changes
Confusion
Drooling
Constipation
Difficulty chewing and swallowing
Caring for the Patient With Parkinson's Disease at Home
At Caregiving Experts, our caregivers are trained to provide the care a person with Parkinson's Disease needs to deal with the changes that occur because of the disease. Our focus is to help you or a loved one to relieve the symptoms, enhance your overall well-being, assist with activities, and improving overall quality of life. Caregiving Experts provides Personal Care, Companionship and/or Complex Personal Services to help a person maintain their activities of daily living and stay safe, happy and secure at home.
Your Trusted Source for In Home Health Care and Support for Parkinson's Disease Patients – Parkinson's In-Home Caregivers
Caregiving Experts offers In-Home Health Care Services and Support for Patients dealing with Parkinson's Disease throughout The Greater Detroit Metro area suburbs including Wayne County, Oakland County and Macomb County. We provide our home care, senior care and dementia care services to residents of Plymouth, Livonia, Canton, Novi, Farmington, Commerce Twp., Bloomfield, Southfield, Royal Oak, Troy, Rochester Hills, Clinton Twp., Warren, Grosse Pointe, Dearborn, Allen Park, and White Lake to name a few.