Experts in the Art of Jewish Caregiving
Jewish Home Care – It Starts with Understanding and Valuing The Jewish Culture and Religion!
Caregiving Experts understands that to provide a quality, respectful and meaningful service to Jewish families and their loved ones, we must first understand the traditions, rituals, culture, dietary needs and religion that they encompass. Our staff and caregivers complete classes on the "Art of Jewish Caregiving." Being able to provide an educated caregiver and staff allows us to truly enhance the healing and caregiving experience we provide.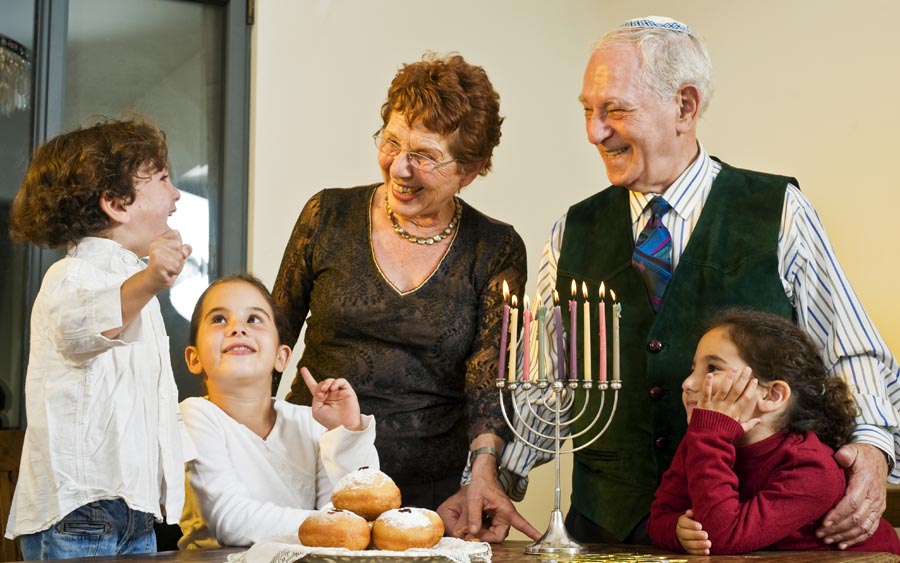 Caregiving Experts also holds a contract with Jewish Family Service (JFS) to provide services to people and families who look to JFS for aid and attendance. Working closely with JFS is a tremendous resource for our organization.
Understanding the Jewish faith and issues surrounding Holocaust survivors allows Caregiving Experts to customize the caregiving experience.
Providing In-Home Companion and Personal Care Services in Southeast Michigan Including the Communities of West Bloomfield, Bloomfield Birmingham, Southfield, Farmington and Oak Park to name a few.
Where ever you call home (personal residence, Independent Living Communities or Assisted Living Centers) Caregiving Experts provides Companion and Personal Care Services. As people age, we can become a valuable resource to help a loved one age with grace and dignity. These services are a vitally important part to making sure that your loved one remains connected to the outside world and mentally alert. This can be for a short period of time after a hospital or rehabilitation stay or for those individuals living with a debilitating condition or chronic illness.
Companion Care Services not only provides comfort, friendship and emotional support, but also include such things as errands, a visit to the salon, tasks and chores that make life easier for our clients and their loved ones. Following are some specific examples.
Ambulation supervision
Arts & crafts
Bedtime tuck-in set-up
Board and card games
Clothing set-up
Family communication
Transportation and escort to Medical appointments
Hobbies
Help with errands
Hair salon
Hosting social activities
Light housekeeping
Laundry
Medication reminders
Reading together
Linen changes
Prescription pick up
Shaving: electric razor set-up
Social engagement
Along with companion care services, personal care services for a more "hands on" care experience can be provide and may include:
Adaptive devices assistance
Ambulation assistance
Ambulation walker assistance
Ambulation wheelchair assist
Ambulation cane assistance
Ambulation standby assist
Back up care
Bathing & grooming assistance
Bed pan
Body moisturizer application
Catheter care
Commode full assist
Commode standby assist
Denture care
Eating assistance
Finger nails – file only
Hospice Care/End-of-Life Care
Incontinent care
Making occupied bed
Oral care full assist
Perineal (personal) care assist
Prescriptions pick up
Pressure sore prevention
Shampoo hair full assist
Shampoo hair standby assist
Shower full assist
Shower standby assist
Toileting assistance
Transfer assistance
Transfer in and out of vehicle
Transfer standby assist
Transfer with assisted lift
Transportation – assisted
Turning and repositioning
Urinal full assist
Urinal standby assist
Your Reliable and Expert Resource for Jewish Caregiving.
Caregiving Experts offers companion and personal care services with caregivers and staff knowledgeable and trained in the Art of Jewish Caregiving throughout Southeast Michigan including Wayne County, Oakland County and Macomb County. We provide our home care, senior care and dementia care services to residents of Plymouth, Livonia, Canton, Novi, Farmington, Commerce Twp., Bloomfield, Southfield, Royal Oak, Troy, Rochester Hills, Clinton Twp., Warren, Grosse Pointe, Dearborn, Allen Park, and White Lake to name a few.