Transportation Services for Our Clients
Client Ride Services in Wayne, Oakland or Macomb Counties? We'll Get You There & Back!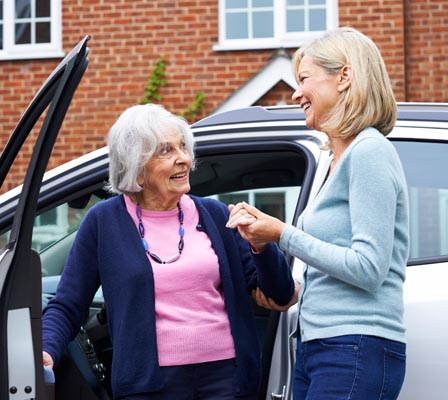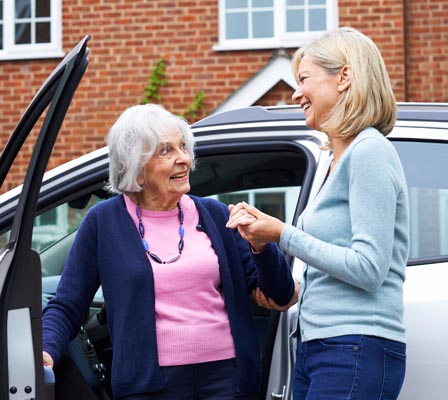 Aside from light housekeeping and providing a helping hand with the everyday tasks that often become more difficult for the older adult, we can help make aging at home even more manageable, by assisting our clients with routine errands and transportation to and from appointments or visiting with friends, a doctor's appointment or even a relaxing day at the spa.
Our home care team and highly trained caregivers make it possible for you and your loved one to attend those special events that make life worth living. We will focus on the details needed to provide quality care so that the family can focus on the details of a quality memory in the making. Our flexible transportation support services will help keep your loved one safe while being out and about.
Reliable Transportation for Medical Appointments
For our clients, we offer support for surgical procedures, medical treatment or therapy appointments.
Day Surgery Transportation Services
Day surgery services may include driving to the location of the surgery or procedure, personal companionship, assistance ensuring your comfort, transportation home, picking up prescriptions at the pharmacy, meal preparation and even personal care services like assistance with bathing or dressing.
Our caregivers and staff are always discreet and follow HIPAA guidelines to ensure privacy. We are focused on the safety and well-being of our clients.
The goal of our caring and compassionate staff is to provide a nurturing and pleasant experience for each client  even when day surgery or a medical procedure may leave them feeling uncomfortable or out of sorts. The extensive training that our caregivers receive and the skills they develop during their training prepare them to excel at providing care and companionship as well as ensuring the safety of your loved one.
Providing Safe, Dependable Transportation Support for Seniors
Caregiving Experts offers transportation support service for seniors and the elderly throughout The Greater Detroit Metro area suburbs including Wayne County, Oakland County and Macomb County. We provide our home care, senior care and dementia care services to residents of Plymouth, Livonia, Canton, Novi, Farmington, Commerce Twp., Bloomfield, Southfield, Royal Oak, Troy, Rochester Hills, Clinton Twp., Warren, Grosse Pointe, Dearborn, Allen Park, and White Lake to name a few.